Conservation Land and Trails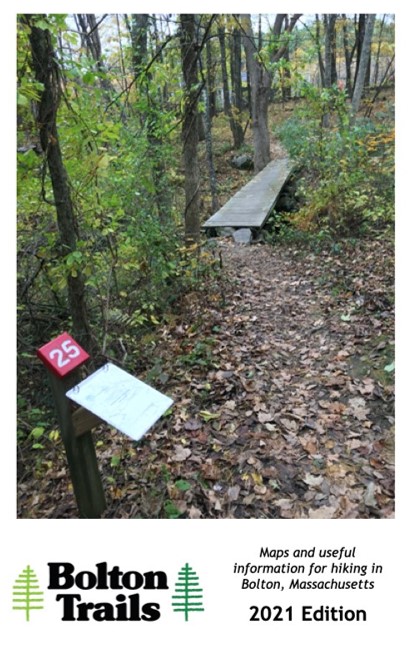 The latest Bolton Trails Guide is now available!
Purchase your own copy here:
Scan the QR Code and pick one up in person – at the Bolton Town Hall or Bolton Bean – for $20.
Or we'll mail it to you for $24 (includes shipping and handling).
Explore Bolton's Conservation Land and Trails!
Bolton's conservation lands and trails wind through open fields and meadows, natural quarries, canopied forests that pass by streams, ponds and even quaking bogs providing natural habitat for a wide variety of wildlife including fox, coyote, turtles, salamanders, butterflies, dragonflies and birds as well as rare plant species. We welcome you to enjoy the rich, natural landscape that gives Bolton its rural charm and character.
Bolton is privileged to have over 2,000 acres of conservation-protected land in over 15 Core Conservation Areas. Bolton's trail systems provide quality passive recreational opportunities in the form of walking, hiking, mountain biking, horseback riding, and cross-country skiing. Our Conservation Lands also provide access to several historical points of interest – from old munition stations to buttonhole factories and hideouts – that capture one's imagination.
The Bolton Conservation Trust, in conjunction with the Bolton Conservation Commission, is responsible for maintaining these lands. Together, we established a volunteer organization, The Bolton Trails Committee, to help support the maintenance and expand the trail system with an aggressive plan to form a 15-mile loop trail in and around Bolton, known as the Bolton Loop Trail. The Bolton Loop Trail will link many of the existing Conservation areas in Bolton along with Conservation areas in Harvard, Stow, Lancaster and Berlin. Using new and existing conservation land and easements, and working with private landowners the Bolton Loop Trail Project will provide a network of trails connecting our communities. We continually seek the assistance of volunteers and generous donations from our community to make this a reality. If you would like more information or would like to participate in this effort, please contact the Bolton Trails Committee or the Bolton Conservation Office (Rebecca Bucciaglia, Conservation Agent) at 779-3304.

To report problem on Bolton Trails:
Click here to explore Bolton Trails. The Bolton Trails Committee has created an overview map of the major Bolton Conservation areas and with descriptions and links to individual trail maps.
**************************************************************************************************************
Bolton Conservation Commission – Conservation Land Rules and Regulations
The Bolton Conservation Commission welcomes and encourages responsible public use and enjoyment of land under its stewardship. Pursuant to MGL Ch. 40, s. 8c, the Conservation Commission has adopted these rules and regulations to provide a pleasant experience for users and in order to preserve and protect in perpetuity the wildlife, aesthetic, ecological, environmental, and conservation values of these properties, which include:
Protection of surface and ground water resources
Protection of unfragmented forest habitat
Protection of wildlife habitat
Protection of open space and the Town's trail system
Dogs may be walked on conservation land as long as they are under the effective control of a person. People walking dogs shall remove feces from trails and all environmentally sensitive areas. Please keep dogs out of vernal pools during the breeding season for frogs and salamanders (generally mid-February through April). Do not let dogs chase or harass wildlife.
Prohibitions:
Hunting, Trapping, and Discharging of: firearms, arrows, paintballs and pellets
Motor Vehicle, except for emergency response or municipal vehicles
Dumping and/or littering
Alcoholic beverages and glass containers
Smoking
Swimming, except wading by the Tom Denny Nature Camp
Advance Permission Needed in Writing from the Bolton Conservation Commission for the Following:
Camping
Fires
Memorials or displays
Building new trails or extensions to existing trails
Cutting, removing or damaging vegetation, except for the control of invasive species
Collecting dead or down wood, rocks, or wildlife
Any activities or uses not set forth here require the prior written permission of the Conservation Commission.